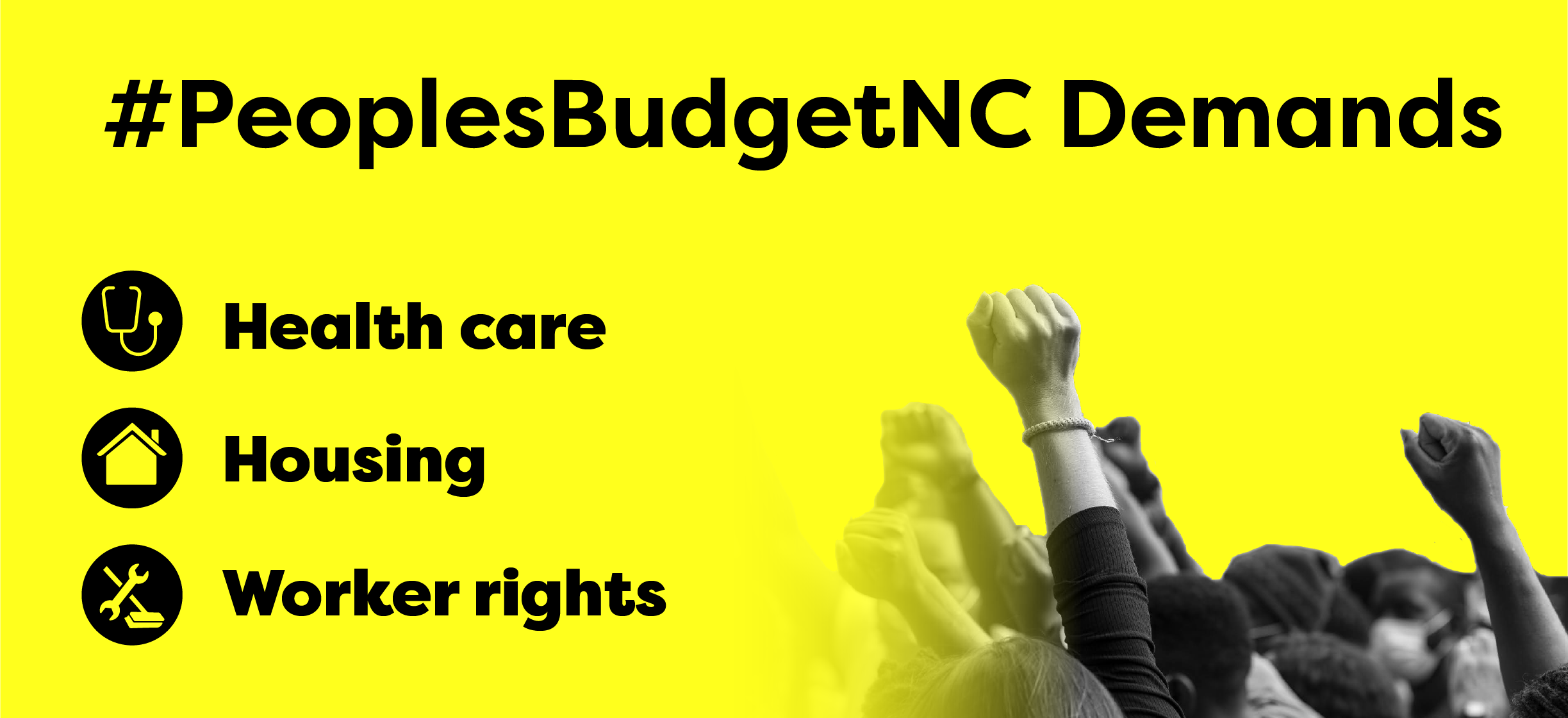 Purpose
The NCGA has failed to pass a state budget for over a year. As they start the 2021 legislative session, over $7.3 billion that could be spent RIGHT NOW sits untouched in the bank. And that number just goes up every day. That is the people's money. With the devastating effects of COVID-19 on our communities, it is critical that the unreserved funds be used to address the needs of the people for survival now and thriving beyond. Healthcare, housing, and workers' rights are the foundation of a People's Budget. 
Demands
The most vulnerable communities are the ones suffering the most from the delays at the NCGA–working and poor people, Black people, people of color, LGBTQ people, disabled people, elderly people, youth and students, parents, migrants and refugees, incarcerated people, the homeless, veterans, and women. We demand that the North Carolina General Assembly use the more than $5 billion in unreserved funds to give our communities healthcare, housing, and worker protections. These funds must be released in line with the needs of our communities, using racial equity as a guiding principle in decision-making.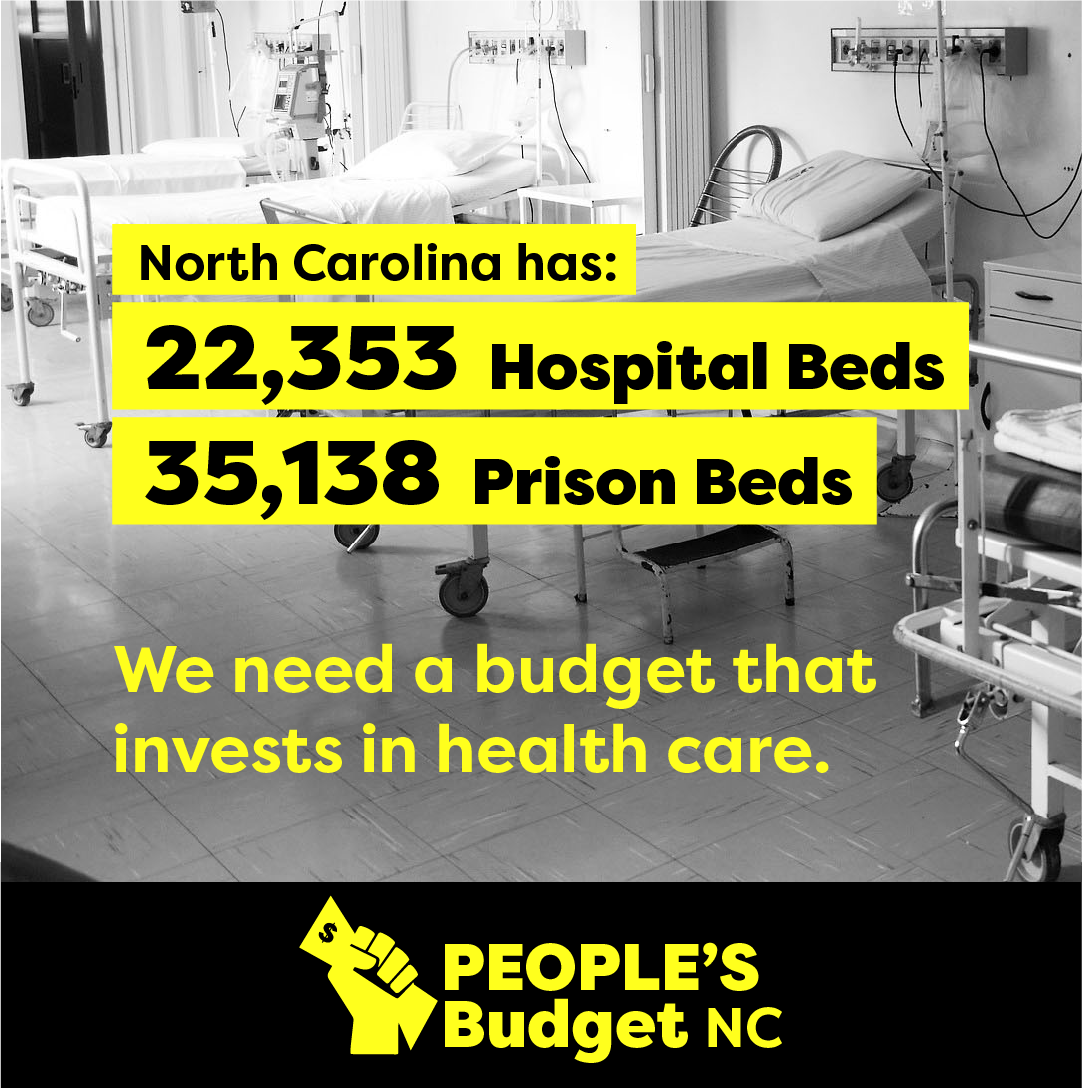 Covid has exacerbated the racial and wealth disparities in healthcare in our state. We have the money to address this by expanding Medicaid fully to cover the over 680,000 unemployed and low wage workers that exist in our state's healthcare gap. 
1 of every 4 renter households in North Carolina has extremely low incomes. Most of these households are spending over half of their income on housing, leaving them unable to afford other necessities. Black and brown people are disproportionately evicted, unhoused, and unable to find affordable housing. We demand that the NCGA immediately release funds to place unhoused North Carolinians in safe and secure hotels or vacant apartments, allocate money to provide direct rent and mortgage relief for those who have fallen behind on payments during the pandemic, and ban source of income requirements in rental applications.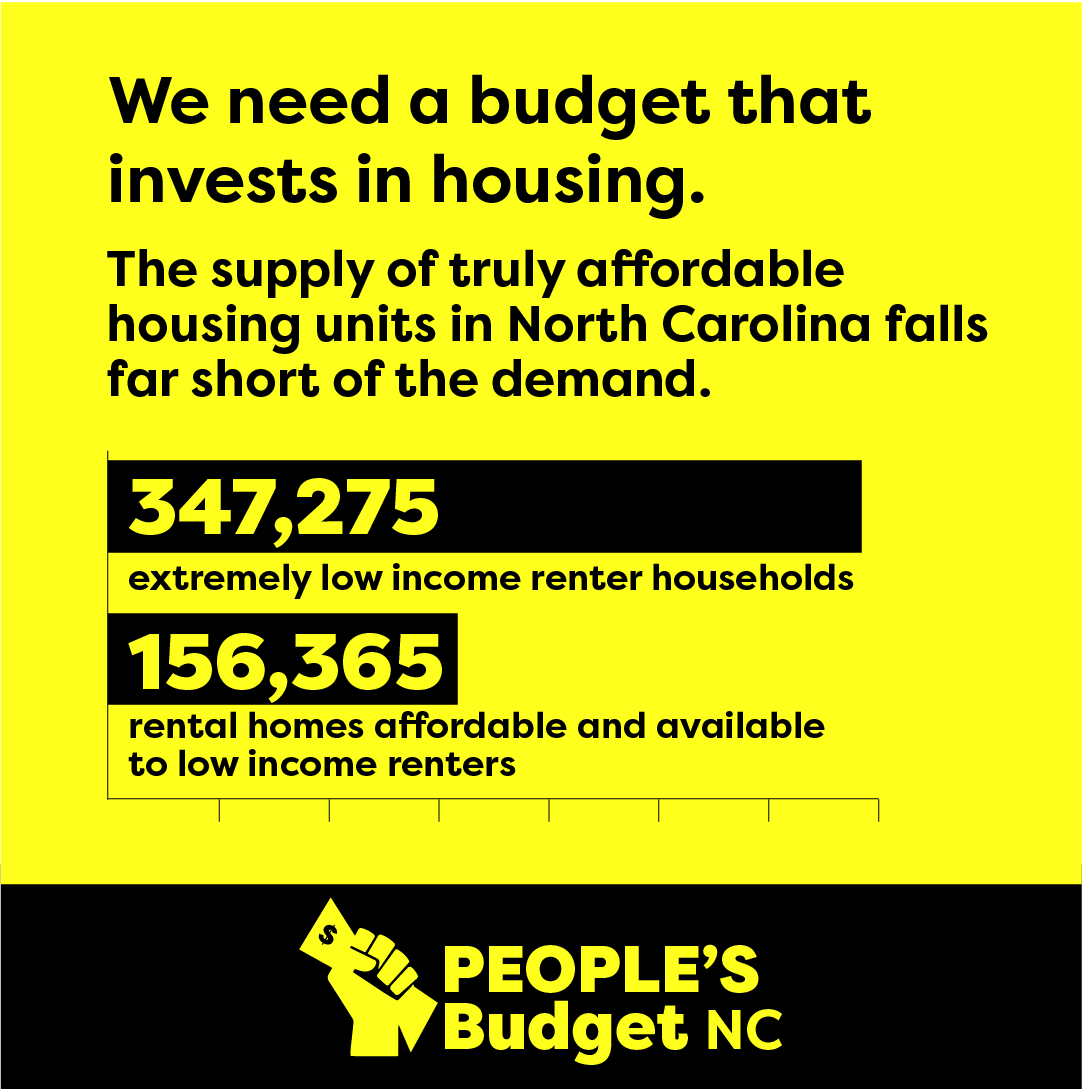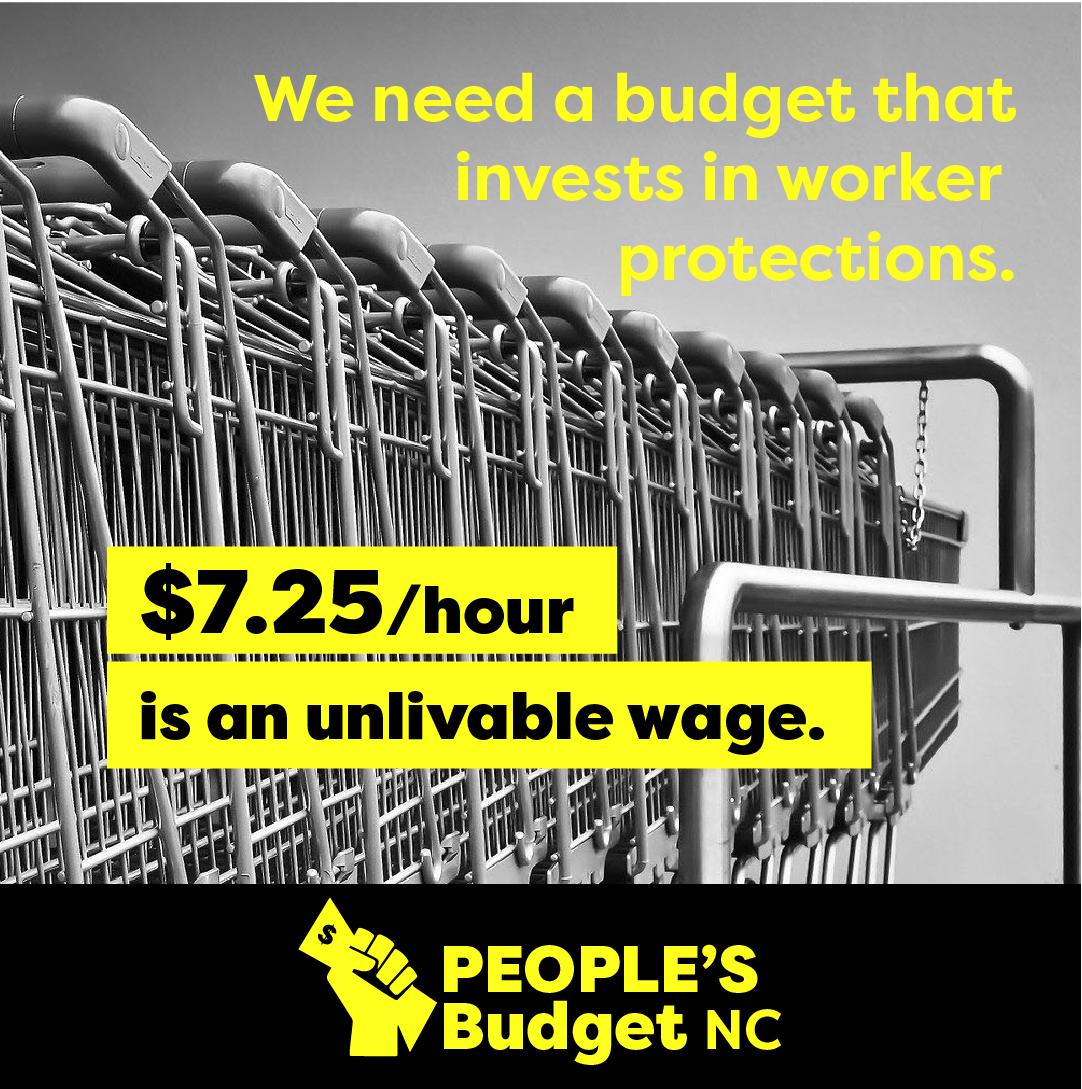 Essential workers on the frontlines are Black and brown, female, working in nursing homes and the service industry – and these heroes are barely able to make ends meet. We demand living wages, an effective unemployment insurance benefits system, and paid leave for all.   
Organizational Signers

Action Institute NC
Always Ready 2 Fight Reentry Resources
Black Voters Matter Fund
BREATHE Harnett
Capital Area Food Network
Carolina Federation
Carolina Jews for Justice
Center for Participatory Change
Church of Reconciliation PC (USA)
Church World Service NC
Communication Workers of America
Community Empowerment Fund
Democracy NC
Down Home North Carolina
Durham People's Alliance
El Pueblo
Faith 4 Justice Asheville
Fayetteville Police Accountability Community Taskforce
Health Care for All NC
Interfaith Initiative for Social Justice
Just Economics
Little Listeners of the Carolinas
Local Progress
NARAL Pro-Choice North Carolina
National Organization for Women (NOW) – Fayetteville Chapter
NC Poor People's Campaign
NC Raise Up/the Fight for $15 and a Union
North Carolina Council of Churches
North Carolina Justice Center
North Carolina Medicare 4 All
North Carolina Public Service Workers Union, UE Local 150
Orchid Bloom
Our Sacred Circles / Women Dismantling Racism
Planned Parenthood South Atlantic
Poor People's Campaign Triad (NC) Circle
Progress NC
Progressive Democrats of Orange County
Racial Justice Coalition
Raleigh Area Workers Assembly
Religious Coalition for Reproductive Choice
Save Our Sons
Siembra NC
SisterSong Women of Color Reproductive Justice Collective
Southern Vision Alliance
Student Action with Farmworkers
Sunrise Movement North Carolina
Unitarian Universalist Congregation of Hillsborough
Unitarian Universalist Justice Ministry of North Carolina
Wake County Housing Justice Coalition
Wake County Progressive Democrats
Young Americans Protest
YWCA of Asheville and WNC